How to change the VAT rate applicable to items
We're often asked about VAT and in what circumstances sales through MemSec EPoS systems can be considered as exempt. We're not tax specialists so we are unable to provide advice on the legal aspects but what we can do is provide insight into how you can configure your system to reflect the correct rate of VAT as you understand it. For an understanding of the regulations that relate to VAT on takeaway food etc, the UK Government web page is here.
If you determine that some of your sales are exempt you'll need to separate those items out. Often the same item can be treated differently in different circumstances, for example if your customer is eating in or taking the item away. Whenever there's a possibility of a sale being VAT exempt we'd suggest creating a separate sale measure in the relevant category. Where by default you might have a measure of 'Each', add a second measure (e.g.) 'Takeaway'. Similarly, if you have sizes 'Regular, Medium & Large' add 3 others reflecting the Takeaway options that match. Do this in the back office program by selecting Till>Categories, then selecting the relevant category in the drop down list. Edit the category, add the relevant measure (if it doesn't already exist simply click 'Add New Measure') to the selected measures and then add a Retail Measure at the bottom.
Once the category is equipped to sell the relevant sizes you'll need to create duplicate items in those sizes. Go to Till>Sale Items and find the relevant category. Select a product and you should see its sale items listed, with a green button for any existing sizes and a red one for the new VAT exempt size.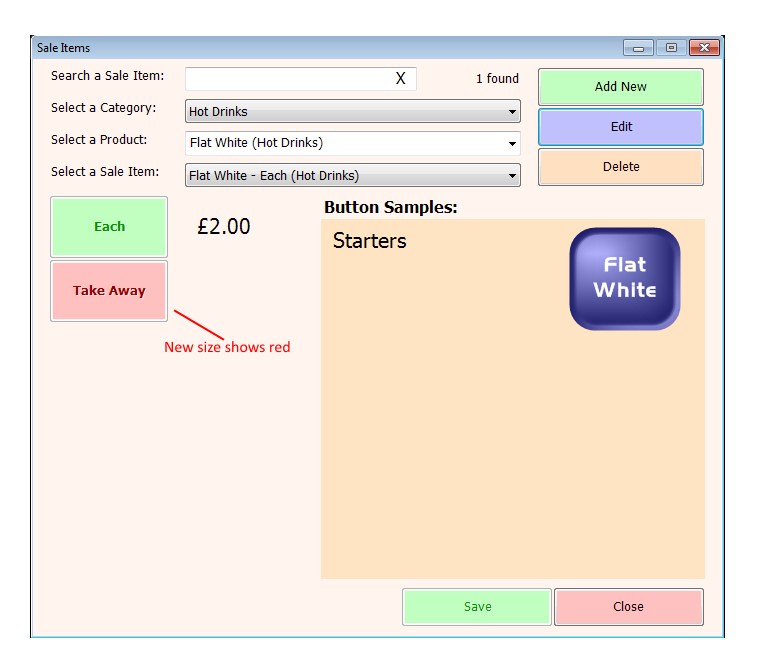 Click edit and then click the red button(s). Enter the relevant price* and at the bottom of the screen select the VAT rate drop down and choose 'E – 0.00%'. Click 'Save' and the item will be available to be sold.
Staff will of course need to be trained to ensure that they choose the exempt version of any item at the appropriate time according to your understanding of the circumstances where you can claim an exempt sale, though this will often be relatively self-explanatory.
* if you intend to pass on the VAT saving to your customer bear in mind that you must divide the full price by 1.2. If you multiply it by 0.8 you'll be charging less than you should. For example, if an item sells for £2.40 including VAT, reducing that by 20% would give a price of £1.92 where in fact the net price is £2.00.
ADDRESS
Suite 1, Banters House
Banters Lane Business Park
Main Road, Great Leighs
Essex
CM3 1QX

EMAIL
Support:
Other enquiries: