How to use instruction groups to make sure allergies are considered when entering food orders.
Food allergies are an important part of any restaurant's planning and operation. Legislation is of course in place to ensure that your menus inform customers of allergens in your dishes but mistakes can still happen. If this is of particular concern for you, Memsec7 can be adapted to ensure that staff have verified that a customer ordering any dish with allergens is aware and has no allergy to those ingredients.
To do this we use kitchen instruction groups. If you're not familiar with these, please click here first for some background.
First we need to decide which allergies we're going to test for. In this example we'll use just peanut allergy. Next we create an instruction group for each allergy. This should be configured so that one and only one selection is required. We'll then add a single instruction to this group, which is a confirmation statement that the customer is not allergic.
Next we need to assign this group to all the dishes on our menu that we know contain this allergen. If there are other groups associated with those items it might make sense to put this one first, since if the customer does have an allergy there's little point in asking other questions about how they'd like the dish served. You can order the groups assigned to an item using the up and down arrows above the 'Apply Groups to Selection' button in the Group Assignment tab.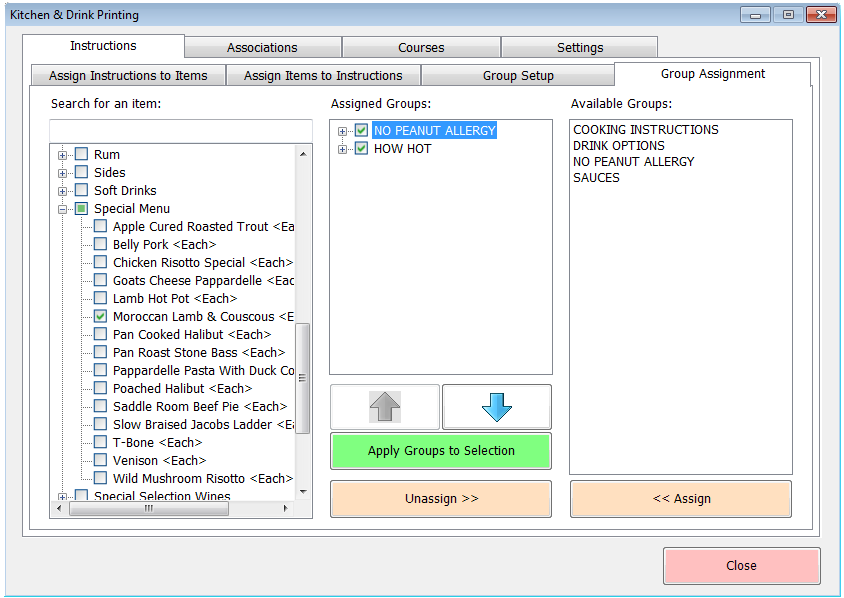 Once you've assigned the group(s) to the relevant dishes and clicked 'Apply Groups to Selection' the till should be ready to implement the new checks. Whenever an item with one of these allergy groups is sold, the first thing the staff member will have to do is confirm that the customer has no allergy. By asking at this point they'll be able to ensure that the dish is safe to be eaten by the person ordering it and the kitchen will receive printed confirmation that the customer has no allergy. If on the other hand the customer has an allergy then the staff member should press 'Back' on the till, thus not adding the item to the bill.
PLEASE NOTE: It is imperative that if you implement this method you also educate your staff to ask the question every time and not to make any assumptions about the customer. Whilst it might seem reasonable to assume that somebody ordering Chicken Satay doesn't have a peanut allergy that's very much the whole point of this additional process. Using instruction groups this way is by no means a guarantee that you will avoid allergic reactions but if it is used properly you can at least be sure to ask the question.
ADDRESS
Suite 1, Banters House
Banters Lane Business Park
Main Road, Great Leighs
Essex
CM3 1QX

EMAIL
Support:
Other enquiries: